[for "Fraud Fighter", UV Counterfeit Detection devices see below.]
Eye-D Cam DEVICES
NON-SWITCHING ID-CAMERA A100-3
ENCLOSED VISITOR CAMERA & ID-CAMERA A200-3-2
MOUNTING BRACKET FOR A100 & A200
WEATHERPROOF HOUSING/SUNSHIELD
ID/VISITOR, RECORDER SYSTEM A200-DVR
Fraud Fighter Counterfeit Detection Equipment
ID RECORDER PACKAGE/SYSTEMS
RELATED CCTV DEVICES
SERVICES
OUR MISSION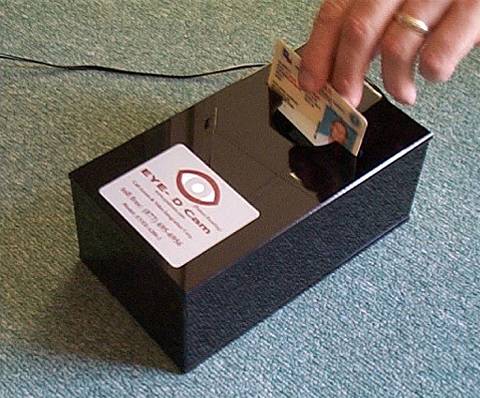 Eye-D Cam A100-3


Non-Switching version of the Eye-D Cam.
[Click picture for specifications.]
This specialized camera can be used with new or existing CCTV systems or recorders. The camera is designed to deliver a full resolution picture of the customer's Driver's License to your monitor and recording equipment.
WHAT YOU GET:
ADVANTAGES
Employees love it. Youíve made it easy for the employee to check and record the customerís identification.

You have positive evidence to protect yourself in legal investigations and to prosecute in fraud and theft cases.

You have a strong deterrent, when people know that you are recording their picture and their ID card picture.
SPECIFICATIONS:
MODEL
A100-3
Video
Color, 430 lines TVL Resolution
Format
NTSC or PAL (to be determined at the time of order)
Video Output
1 Vp-p, 75 ohm unbalanced
Lighting
Internal White LED's
Power

12vdc, 150 ma, power in.
Built-in power regulator.
Built-in polarity reversal protection.

PHYSICAL
Card Holder
Holds a standard 3-3/8" x 2-1/8" ID card (86mm x 54mm.)
Humidity
0-85% Non-Condensing.
Temperature
40 F - 100 F (4.5 C - 38 C)
Color
Matt Black
Net Weight
1 lb. 4 oz (567 g.)
Shipping wt.
4 lb. (1815 g.)
Dimensions
9-1/8" L x 4-5/8" W x 3-7/8" H (230mm x 119mm x 98mm)
---